1971 Honda CB750 "Soichiro" by Wesley Hannam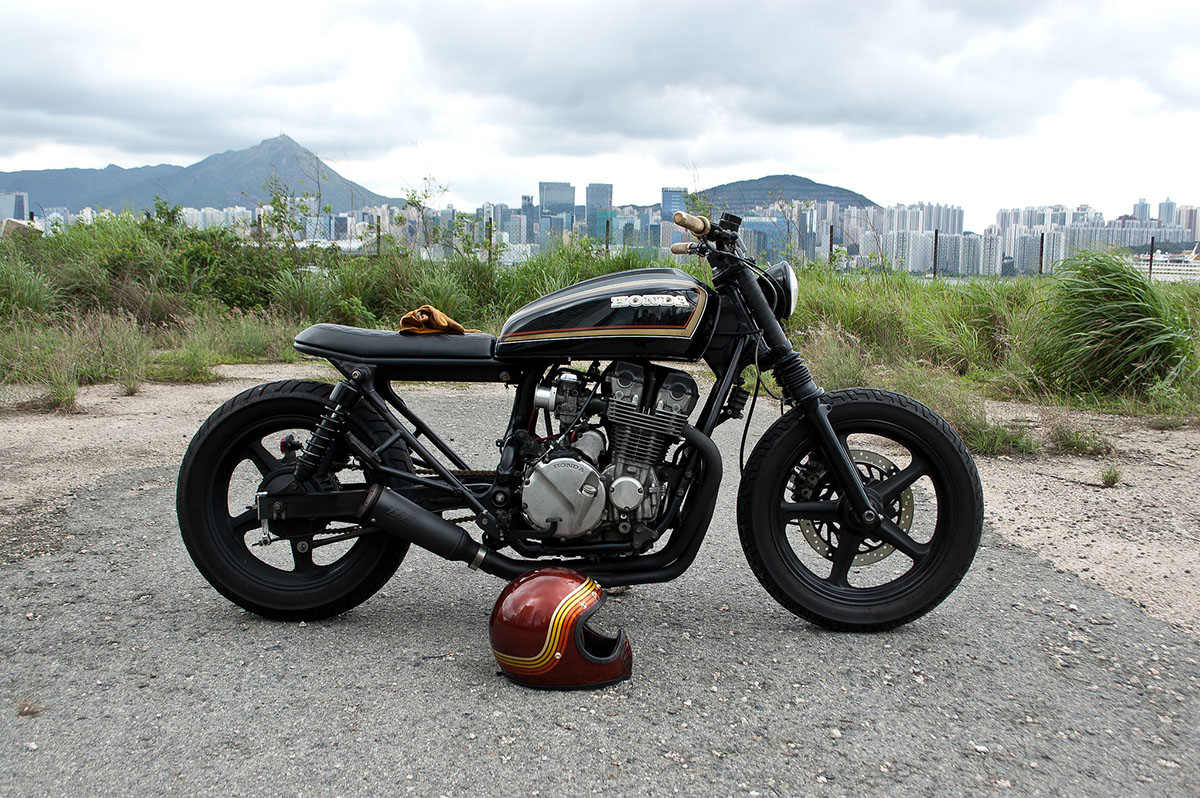 Build by Wesley Hannam in Hong Kong, China.
---
Meet Soichiro.
The unlikely donor for this build was a 1991 Honda nighthawk CB750, undoubtedly the red-haired stepson of the CB750 family. With styling cues that are more akin to a cheap hairdryer than a motorcycle, this build required a lot of vision and imagination.
Mediocre styling and the uninspiring nature of this bike aside, it is still wrapped around one of the greatest engine designs of all time. The CB750 4 in line air-cooled 16 valve DOHC. This is the perfect power-plant for this build, combining the classic looks of the older SOHC's, with modern reliability in the form of electronic ignition, a great charging system and hydraulic valves. It might not be the favorite child, but at 75hp it surely beats the crap out of its siblings. A 750cc power-plant in a stripped down bratstyle, is a recipe for disaster and it's safe to say this bike is much faster than my guardian angel can fly.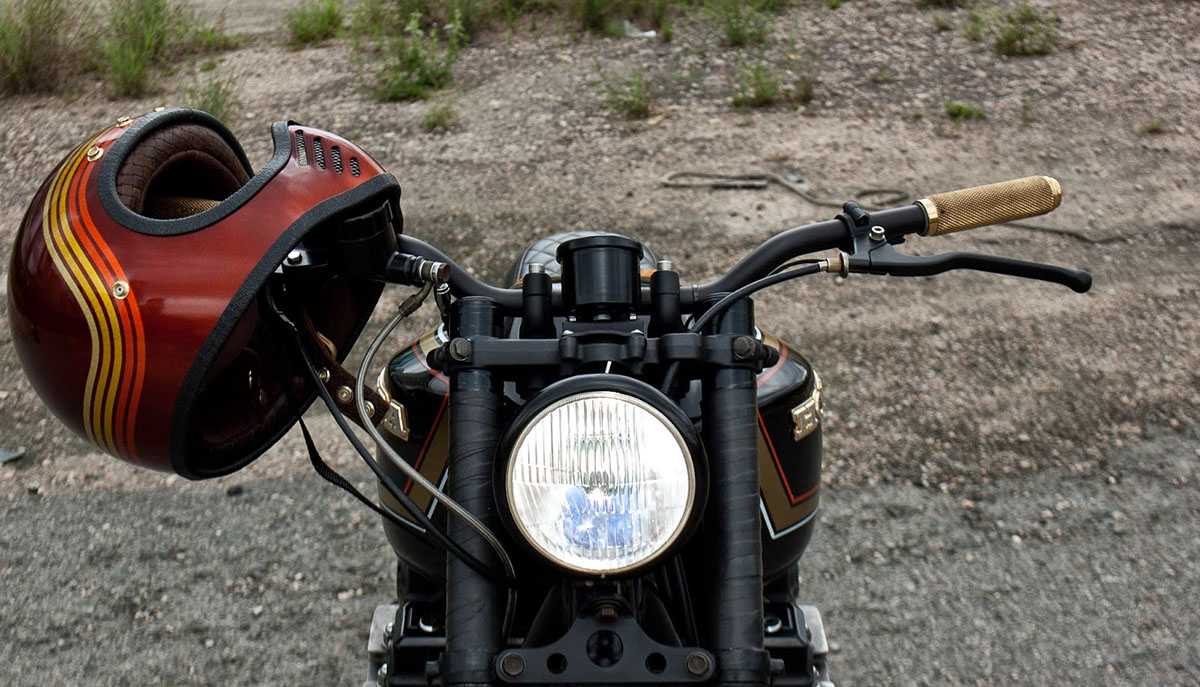 Before getting into the details of this build, credit is due to master craftsman, my mentor and friend Geoff Giles of ET Custom Cycles. I am indebted to Geoff for all of this fabrication and advice on this bike, none of this would have been possible without him. The man is quite literally an endless motorcycle resource.
Motivation for building a motorcycle can stem from many places, for me though a key factor is creating something that hasn't been done before. I have yet to lay my eyes on a nighthawk CB750, that has been transformed into a good looking machine. Two factors are at play here; the ugly teardrop tank (ugh) and the slanted rear seat-rails, there is no way this bike will ever look cool if these two are left untouched.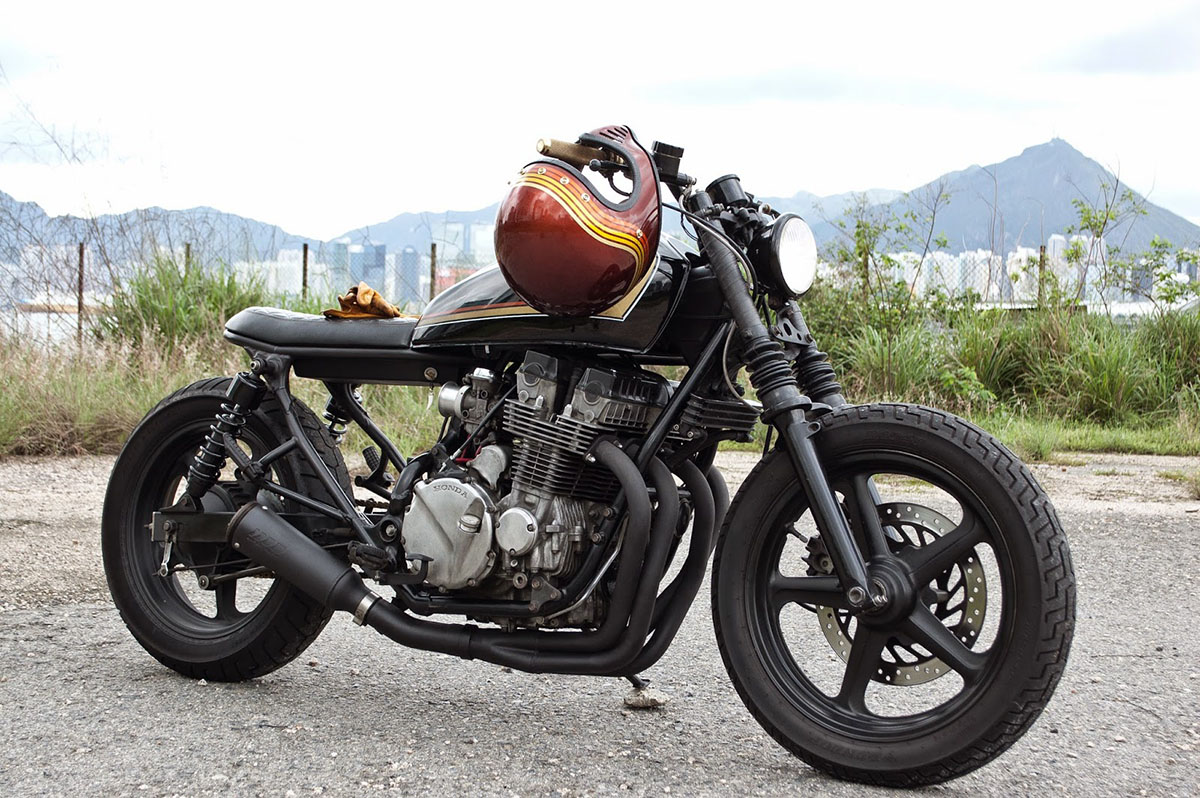 The donor tank came of a 1978 cb750 k, which required some serious patience and modification to make it fit. the entire stock rear section was cut out and replaced with a straight flowing tail section and loop.
The bars are Renthal ultra lows, paired with a nos 1970's CB750 front master cylinder and custom milled one-off brass grips by speed dealer customs. Lighting is provided by a bates headlight from japan and the taillight is an led unit mounted on a custom made plate bracket. The front forks were also rebuilt with new seals, lowered and fitted with a SuperBrace. The rear end is sprung with progressive suspension and the original swingarm was replaced with a new unit. Gases are expelled through a custom 4-into-1 header with a SuperTrapp muffler.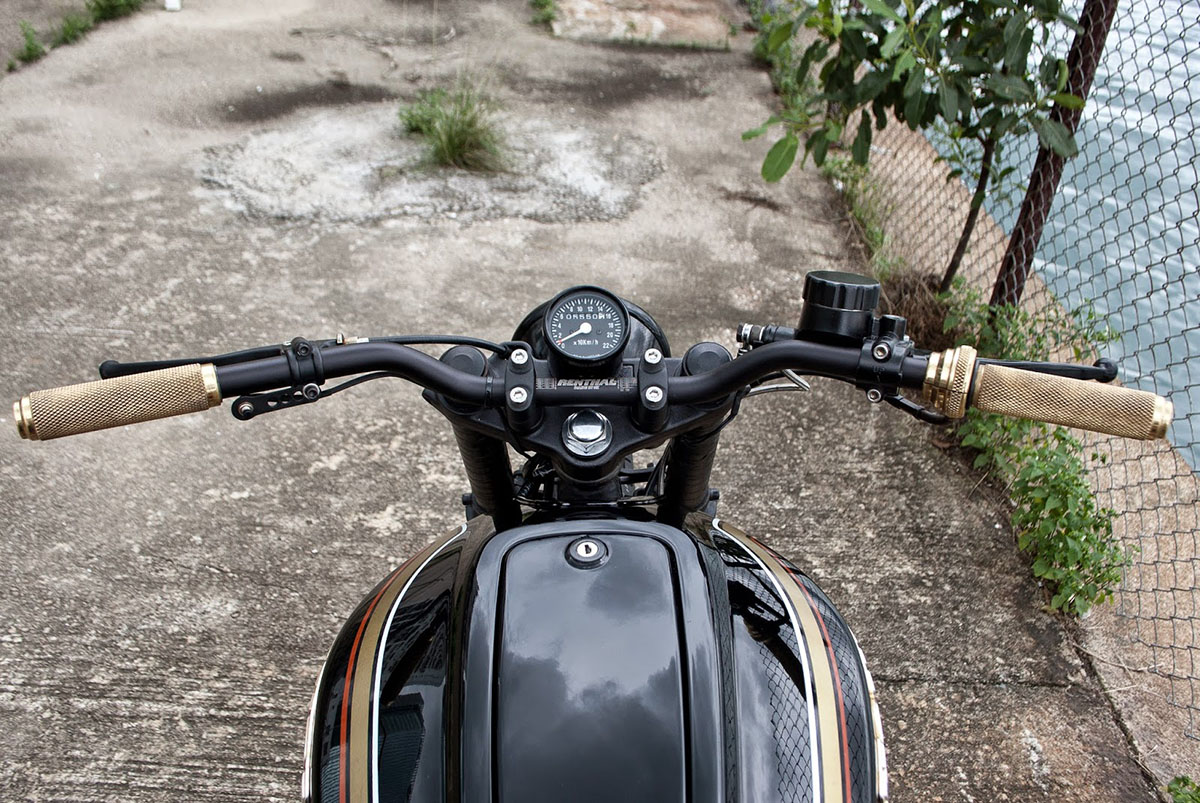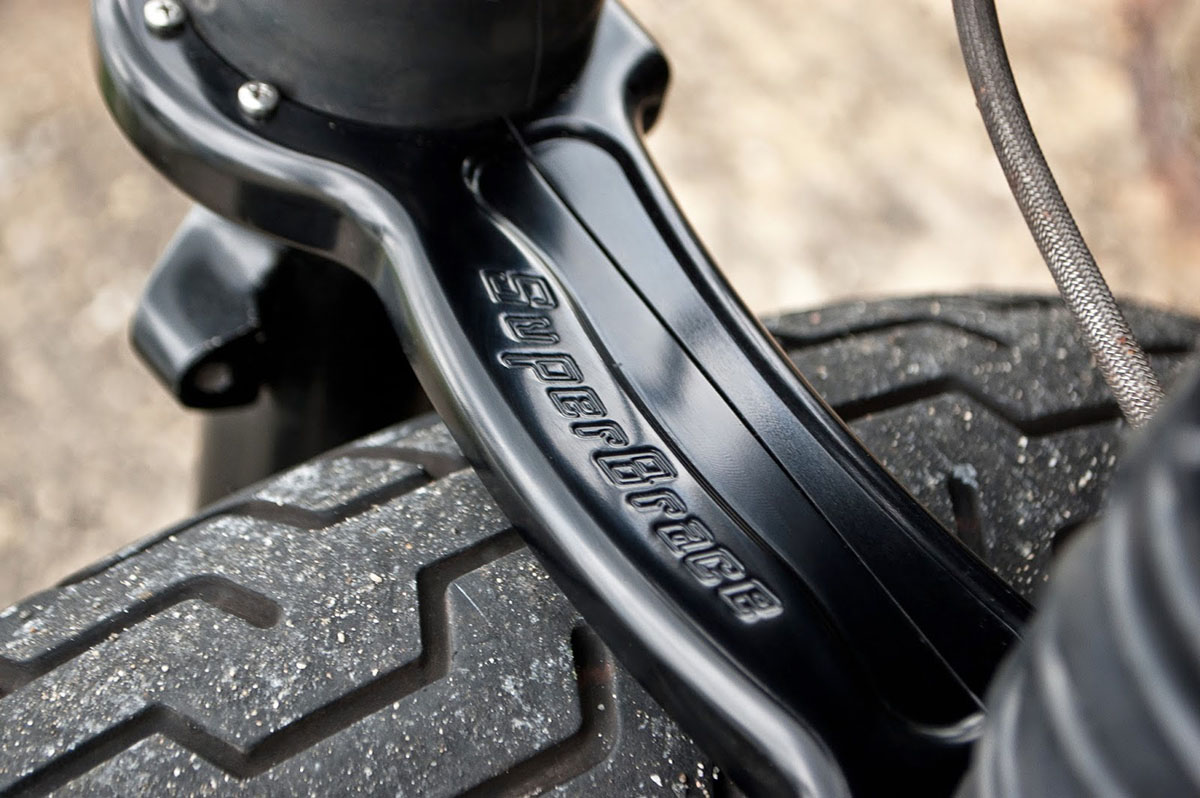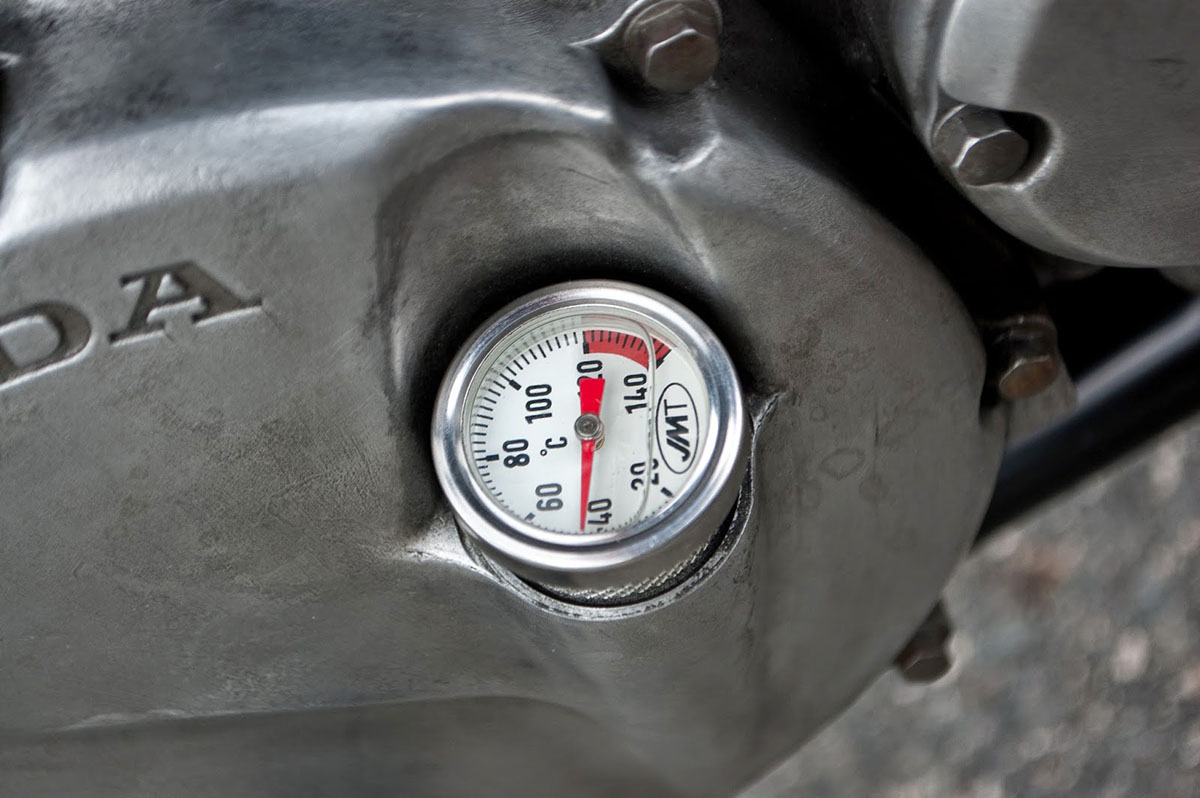 The handmade seat-pan was sent across the pacific to the dark queen of motorcycle upholstery, Ginger McCabe. Ginger runs New Church Moto in Portland, Oregon and is in my (very humble) opinion the best motorcycle upholsterer in the world.
The carbs were rebuilt with all new seals, rejetted and synched and now run on a custom set of velocity stacks, also custom made for this bike by Steel Dragon Performance. A factory pro shift kit was also installed to tighten up the shifts between gears.
The gas tank was an ebay find, which presented an onerous task in getting it back into its original 1978 spec. The tank was pounded and beaten back into shape, before receiving a full strip-down and automotive grade re-spray in Honda black. The reproduction decals took months to find and didn't come cheap. Tank emblems were kept in their original patina as an ode to the tanks heritage whilst lending a tip of the hat to the Japanese art of Shibusa.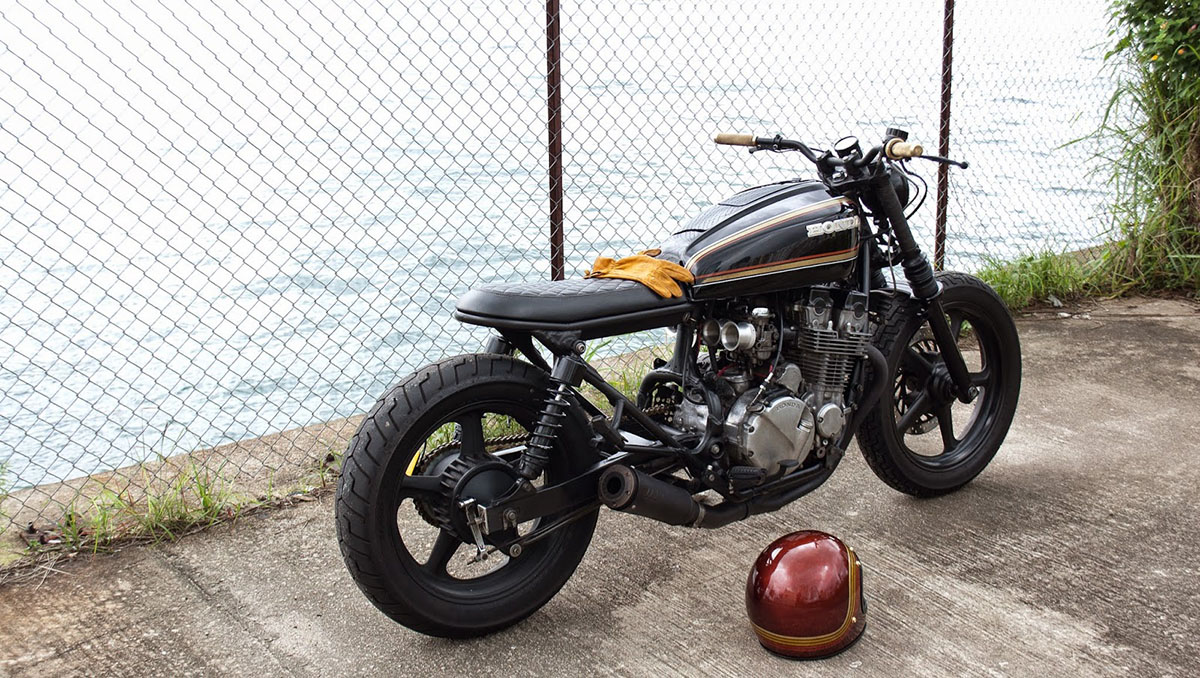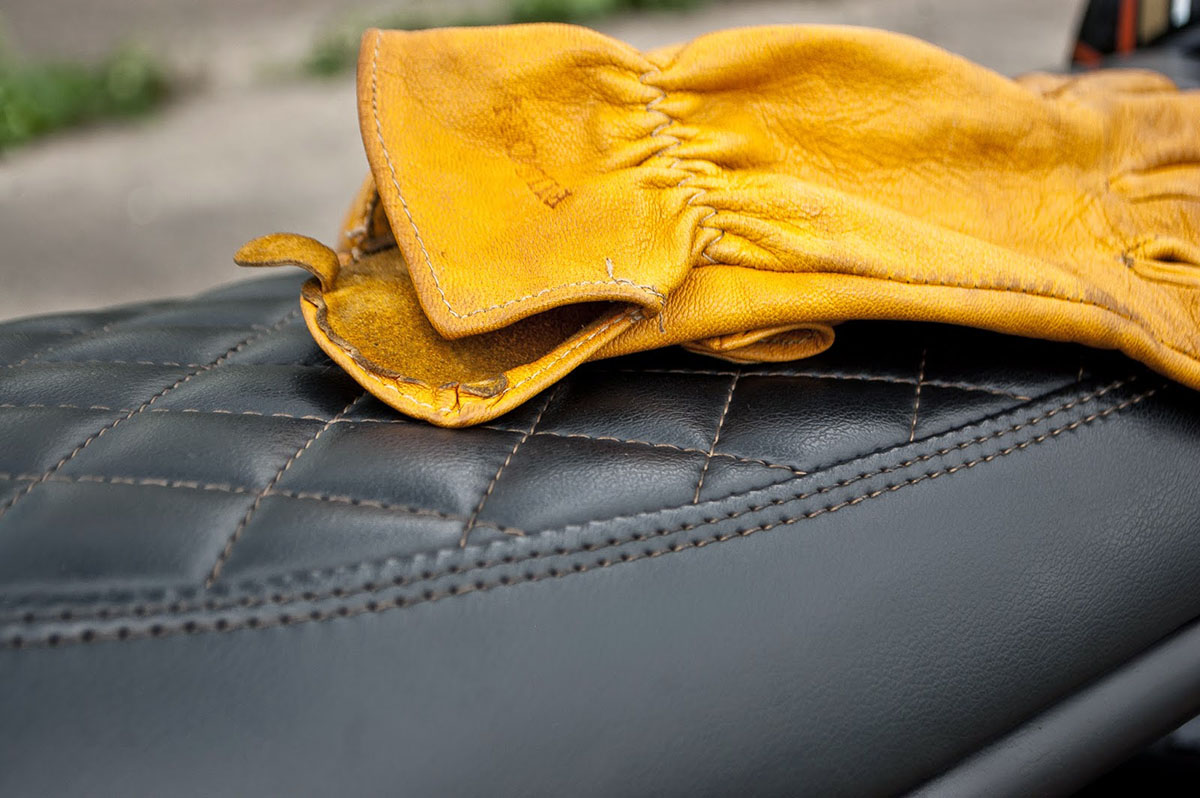 The wiring harness was stripped and simplified, with a Ballistic 8 cell battery. The ignition key was relocated under the seat.
The wheels were powdercoated and laced in all new rubber. Power is transferred to the rear wheel via a D.I.D gold chain and all new sprockets, with the sprocket-cover drilled out for extra detail, whilst a custom oil temperature gauge from Germany keeps the temp in check.
A faulty ECU made me age about 5 years in trying to pinpoint an electrical fault in the bike. After replacing 90% of the electrics, I finally succumbed to a new ECU which solved all issues. The bike also runs on a set of NGK iridium plugs.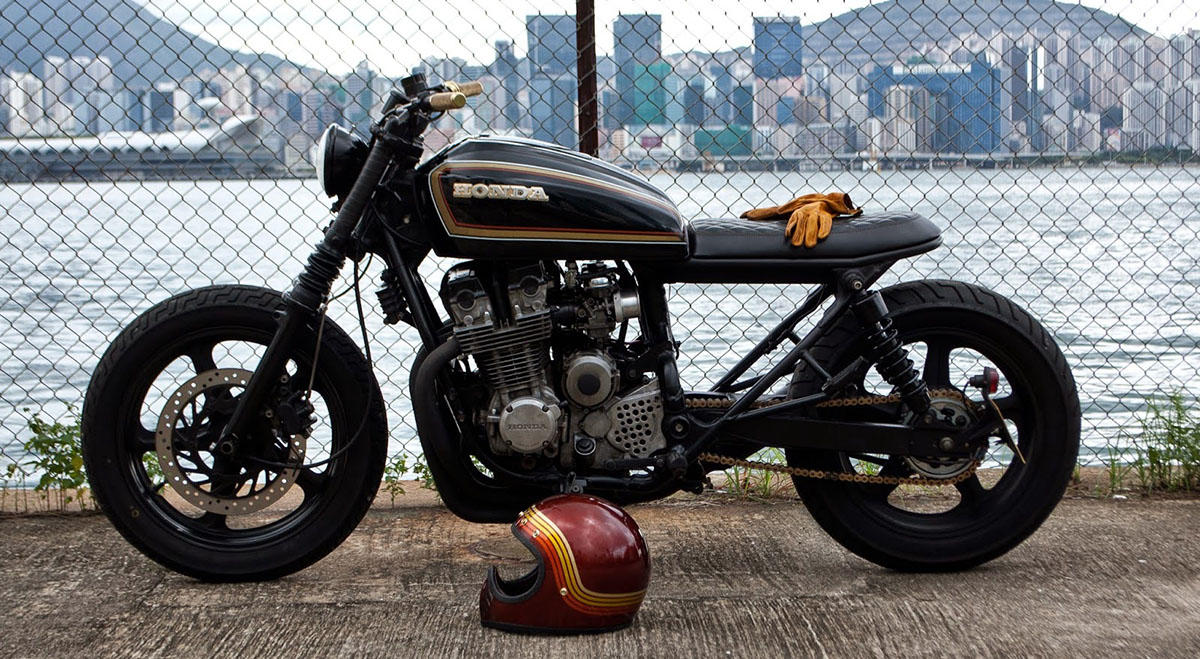 Hong Kong is a sinister city that requires an equally sinister machine. Low, fast and no bs, Soichiro is perfect for shredding the streets of Hong Kong. This bike is my daily rider and weekend beach blaster.
After more than two years in the making, a lot of money, sleepless nights, weekends wrenching, sweat and – some blood, Soichiro is finally finished.
As for the name, I affectionately chose to name my bike "Soichiro" after Honda's founding father.
It's safe to say I am the proudest step-dad on the planet.
Ride fast – die last.
---
Photography and writing by Wesley Hannam | Instagram @abandonedpier