1975 CB550F Honda Brat by Antoni Spizzirri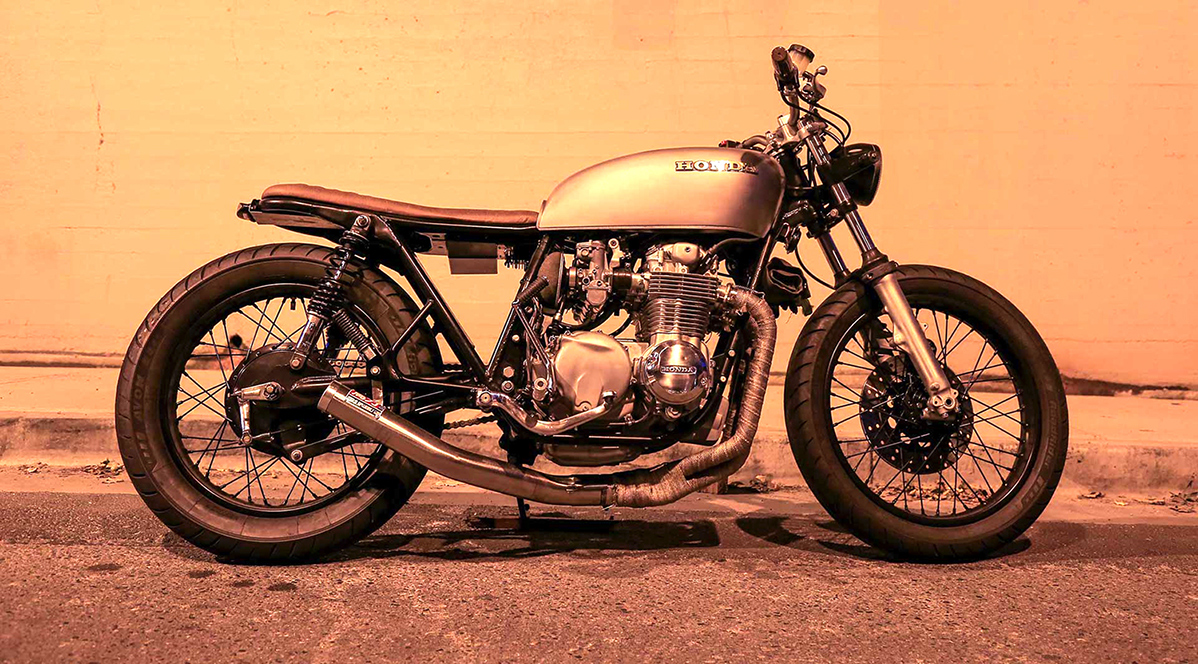 Antoni Spizzirri – Vancouver, Canada.
The bike was built in my garage in East Vancouver (single garage with two other project bikes, a scooter, a skateboard mini ramp, and a massive tape collection). A lot of the time there were two of us in there, sometimes three. Pretty cramped – almost every time I put anything down it would disappear for a while.
I had the cylinders honed and the head resurfaced at Alec's Automotive Machine Shop on Fraser St. in Vancouver. The carbs were rebuilt and thoroughly cleaned inside and out by a fellow named Harissuluv from the SOHC4 forum (If you have a SOHC4 bike, I recommend joining this forum – the support from these guys is unbelievable).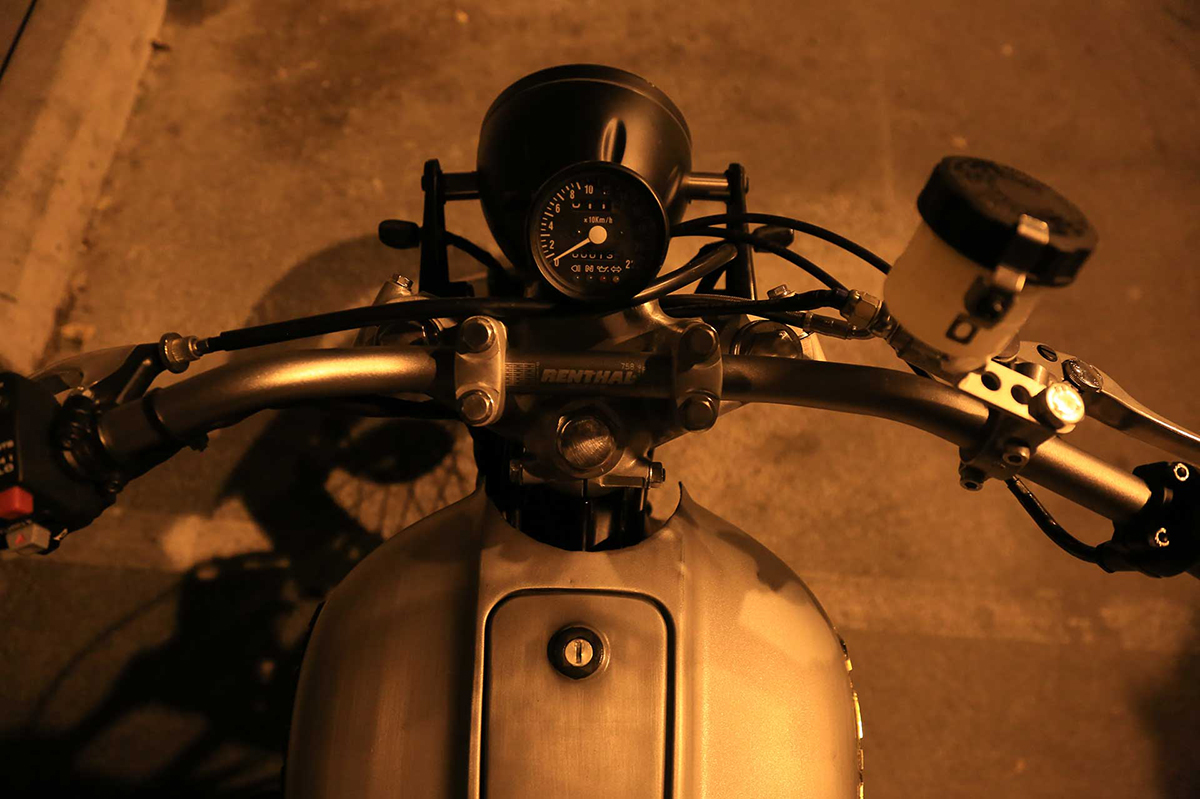 Had the front brake rotor drilled and surface ground by Ebay member "smw70ss" and a full, brand new, custom wiring harness built by Sparck Moto. Possibly the best $180 I have ever spent, just the amount of support that was provided to me throughout the wiring process was truly amazing, could not have been happier with this service! All the other work was done by me.
The whole build took about 10 months or so until I finally got it going. I had a charging issue that stumped me for almost 2 months. That's all cleared up now though.
This whole project started out as a seized front brake. Before I knew it, I had stripped it down to the frame and the motor in pieces. Countless hours and thousands of dollars later the bike of my dreams sat before me. It was one hell of a ride… it IS one hell of a ride! I couldn't be happier with the way it turned out. It will be a sad day when she goes.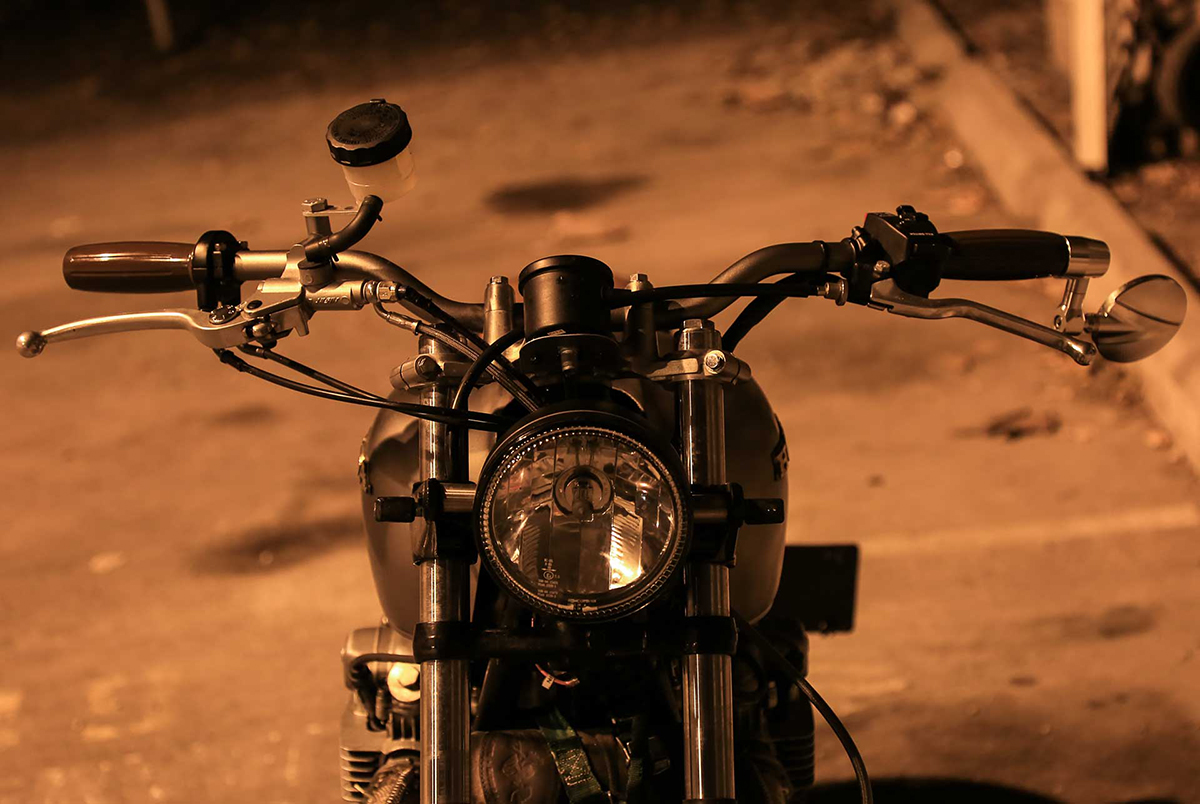 Photography by Eric Eichberger
---
Specs
The brat is completely rebuilt with new everything and has 26,000 original miles (original speedo still in possession).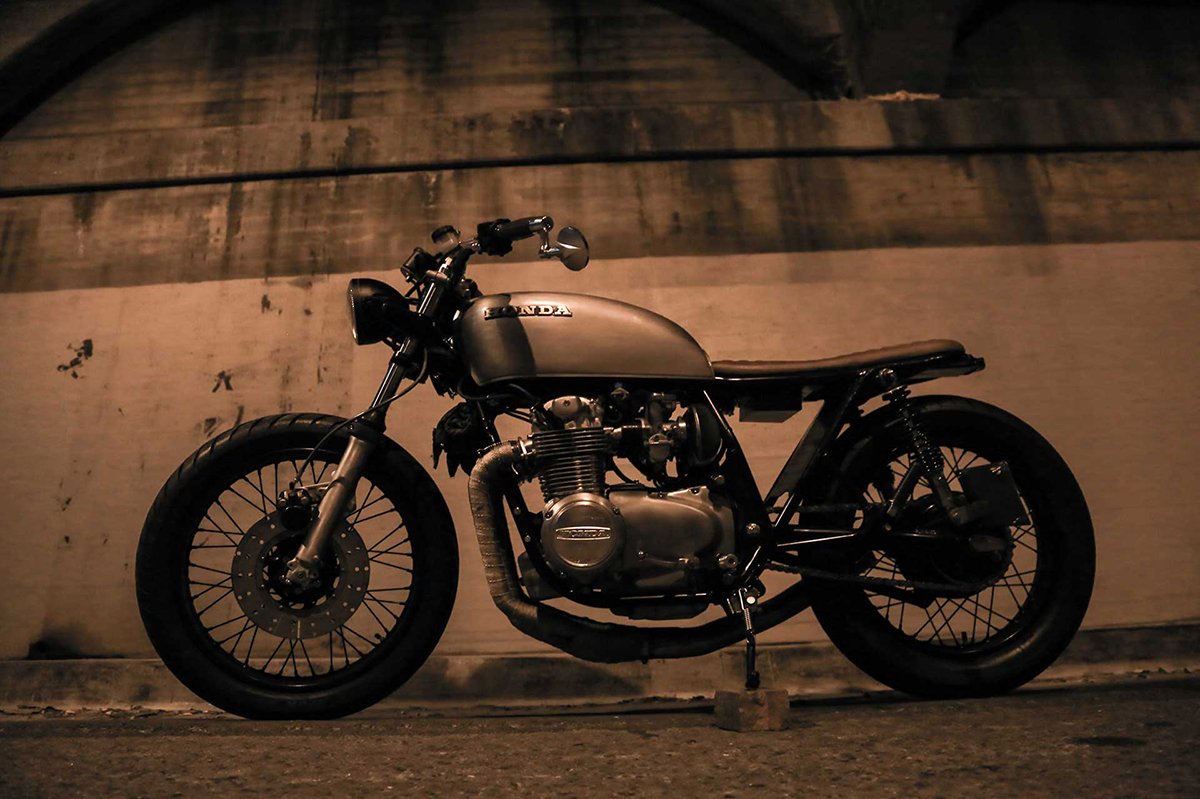 List of parts and modifications:
Frame/rims were sandblasted and powder coated
Wheel bearings (front/rear)
Brake pads (front/rear)
Sprockets (front/rear)
Heavy duty gold drive chain
All new lighting (LED)
Completely new custom wiring harness
Battery (small AMG type)
Updated Regulator/Rectifier
Air intake system
Professionally rebuild/cleaned and polished carbs
Rebuilt top end (new rings, honed cylinder bores, gaskets and seals, machined/trued cylinder head matting surfaces, lapped valves)
Clutch
Coils w/ electronic ignition, spark plug wires
Exhaust (sounds incredible)
Foot pegs
Tarozzi front fork brace
Front brake calliper, Stainless steel brake line, Nissin master cylinder
Handle bar grips
Clutch and brake levers and cables
Stainless steel allen key engine bolt set
Header wrap
Original tool kit w/ tool roll
Speedometer
Avon tires
Ikon rear shocks
Fork tubes and seals
Front disc brake surfaced ground and drilled (36 hole pattern)
Fuel petcock
Bar end mirror
Left hand controls (no more right hand controls needed)
Ultra low super bike handle bars
Tapered Steering head bearings
Engine cases has been completely hand cleaned (literally with a tooth brush)
Engine side cover have also been hand polished
Inside of tank has been cleaned of all rust
Outside of tank has a brushed bare metal finish with clear coat
Brown leather flat "brat" seat