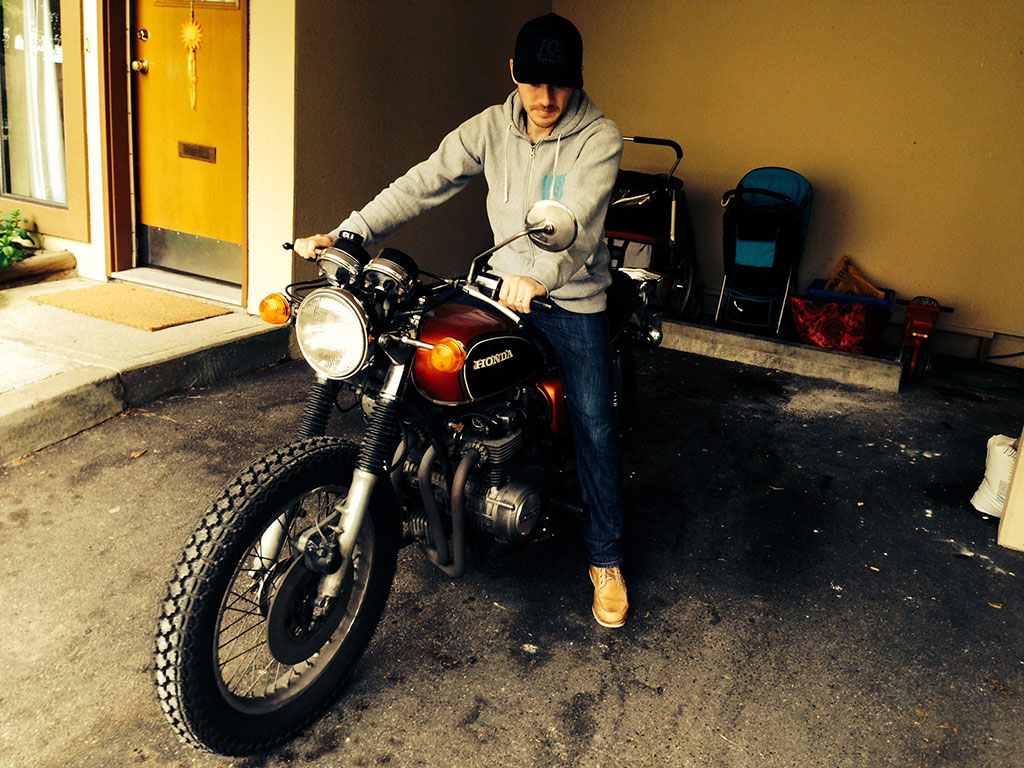 This site showcases a collection of things Honda Brat. Check in to see some of the latest in the world of Honda Brats.
In 2010, two things marked the beginning of my interest with "brats" or brat style motorcycles. The first was an image of the BratStyle custom motorcycle shop in Tokyo, Japan with Gō Takamine standing out back (below).
The second was shown to me by my brother-in-law and was a YouTube video (that I haven't since been able to find) with Jared Johnson's all blacked out Honda CB400 bare bones brat where he starts it up and does a walk around (image below). This bike became my first love with brats and so I owe it to him and all those who have inspired myself and countless others to join the brat world, but more specifically the world of Honda Brats.
About the author
My name is Joël Tougas and I live in North Vancouver, British Columbia, Canada with my wife and four kids. I spend some of my very limited spare time searching, updating and enjoying all things Honda brat. I am currently a User Experience Designer/Consultant and work in downtown Vancouver.
What was your first bike?
My first bike was a 1974 Honda CB550F Super Sport that I owned for a total of 48 hours (shown at the top). I bought it for $1800 off a Swedish fellow in Gastown who was preparing to move back to his homeland. It was a fantastic bike and a ferocious beast that needed lots of love, more love than I could afford to spread around at the time unfortunately.
What bike(s) do you currently own/ride?
My current "project" involves two bikes: two 1975 Honda CB360 Twins. One is a parts bike that has been stripped down to pieces and the frame has been chopped and welded to fit a brat seat. The other now starts and sounds great, but still needs work and modifications. Trying hard to have the bike brat ready for summer.
What's the logo?
The logo is a partial mimic of the rider view of my first bike, the 1974 Honda CB550F Super Sport.
How can I showcase my Honda Brat?
If you're interested in showcasing your brat on the Honda Brats website and want to share the details of your build, you can do it here: SHOWCASE